Using this guide and odds comparison tool, I will teach you how to get the best betting odds for maximum ROI or Return on Investment.


Next time you're at the local, sinking a couple schooners and having a punt on the horses, trotts or greyhounds. Have you ever wondered if there was a better way to bet and make even more money for the same investment?
What about sitting at a football match, checking your sportsbook accounts to place a cheeky live bet on the underdog teams? Ever thought you might have gotten better money elsewhere?
Well, You bright-eyed punter – read on, because now you can.
There are a few different techniques we can use here to make sure every time we punt, we're getting the absolute best value we can.
Here at BeatBookies, we have a saying we like to use. "Put the money back in your pocket". Did you know that each and every bookmaker has different prices, different lines, and different promos/bonus bets?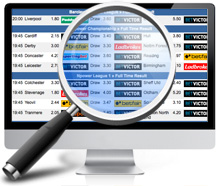 Well.. you probably already did if you've found your way here.
We've got a tool on our website we use consistently to ensure we're always getting the best betting odds for maximum ROI. "Why would you bother doing this?" you might ask.
The answer is simple. More money for the same winning bet stake.
To use this method effectively, you will first need to have an account with each bookmaker. While that may seem like an overkill, It really does work out in your favour for a number of reasons.
Finding the best betting odds for maximum ROI
Step 1. Claim your Bonuses and Matched deposit offers.
This one's pretty obvious. Take a look on the right and you'll find various offers to claim matched deposits for each bookie. Make sure you use these links so that the promo code is automatically applied on sign-up. Make your first deposit and claim your free money! Of course, there are various turnover rules before you can withdraw the winnings from your bonuses. But money is money, right?
Step 2. Search and bet instantly with the best odds.
By using the Live Odds Comparison tool you can take the hassle out of checking each bookie's website or mobile app. You get a clear overview of the odds in that particular market. The best odds are even bolded for you to speed up the process in finding who to bet with, and what to bet on.
First search for a Sport, Country, and League if applicable. (We've got every sport in every country that you can bet on listed)


Select the match or market you're looking to bet on
You can already see the best odds listed to the right. Click the best odds on the match you want to put some money on.
Let's go with the St George Vs Penrith game.  Those odds look juicy.

Now we can instantly see and instant overview of every bookie, and the odds that they're currently offering.
If you're putting your money on Penrith to win, It's a no-brainer you'd put your money through Sportsbet. On the other hand, If you're putting your money on St George to win it's the opposite and you'd put your money through Bet365.
It may not seem like much of a return at first, but by selectively picking and choosing your bookmaker before you place your stake will ensure you're getting the best value out of your money with every bet you make. By using the live odds comparison tool, You're putting the money back in your pocket.
Lastly, another method to get better odds than advertised is by betting with Ladbrokes.
Ladbrokes are unique to other bookmakers in that they offer a special feature called "Odds Boost".
Every single day you'll get odds boost on any fixed odds bet. When or where you use it, is entirely up to you.
Cross check your boosted odds with the ones from the Odds Checker tool, and you'll be getting the best returns for the exact same stake! Using these methods you are bound to increase your bankroll.
Check out this video from Ladbrokes on how to use this awesome feature.